Fashion Trends
It's official – Louis Vuitton's cruise 2017 show will be out of this world. The runway will be the first show hosted within the Niterói Contemporary Art Museum in Rio de Janeiro, Brazil; an iconic building created by Brazilian architect Oscar Niemeyer in the shape of none other than a flying saucer. It is here where creative director Nicolas Ghesquière will unveil his latest creation for the luxury label; and what a lovely view, too, as the museum overlooks the Guanabara Bay.
When news broke that the brand would stage its show in Rio, we were nearly overwhelmed thinking of all the possibilities for the runway, especially with the show's proximity to the Olympics, which will be held in Rio three months later. The hype for both events will definitely boost morale for the Vuitton team, and for fans far and wide. According to WWD, Vuitton's show will be staged on May 28, which also just so happens to be the museum's 20th anniversary.
The last Vuitton cruise collection was shown in Palm Springs at the Bob and Dolores Hope estate, and viewers remarked at its mild resemblance to a UFO, but this season the resemblance is uncanny, which will allow viewers to totally transport themselves into a new, and futuristic, state of mind. Ghesquière rather romanticized the concept, adding a bit of poetry to the idea by illustrating that using unconventional buildings for showing collections is all "about being transported into a relationship where nature, geography, and architecture come together."
The museum, according to Niemeyer is like that of a flower, complete with a reflecting pool around its base, with a red ramp curving around it; this will become the red carpet for Vuitton's celebrity guests, come May.
Luis Vuitton has been doing a lot with visual and digital art with its shows in recent seasons, so with this spectacular location as its source, we can only assume this trend will continue. The use of social media and even video games (remember Ghesquière's crossover with Final Fantasy?) shows that Vuitton is a frontrunner with incorporating technology into fashion, so with a UFO-resembling museum, there is a great deal of potential for a futuristic, technological set of clothes, that still manages to be perfect for customers seeking stylish resortwear.
Something tells me in the years to come there will be a mad dash for luxury brands to reach extravagant, inspiring locations to showcase their collections. It is definitely not a new concept, but each season we at least know to look forward to new locations that are rather groundbreaking for the season and for the purposes of the designers; it's just a matter of who will get to new locations first. But if you ask me, I think we'll be seeing a lot of Louis Vuitton, fronted by Ghesquière, at the front of the pack.
Fashion Trends

Expect to find chunky knitwear, outerwear, cargo shorts, and polos available in seasonal colors, navy, red and blue. The collection features plenty of bold, graphic prints including the Gaston V, Semaphore and Victory Boat. Also includes are a range of leather goods splashed with the Damier Cobalt Regatta.


The collection is rich with references to travel and modernity in a way that stays true to Louis Vuitton's brand identity. The collection will hit select Louis Vuitton stores (worldwide) later this month.

Fashion Trends
It's the last day of Paris Fashion Week fall 2016 and, while everyone is already tying up the loose ends trying to understand what fashion will be all about next fall, some of the biggest brands are still frantically showcasing their collections. Almost bicentenary Louis Vuitton is among those brands that are waving the Paris Fashion Week goodbye with their catwalks, just unveiling its fall/winter 2016-17 ready-to-wear collection at the Fondation Louis Vuitton. Nicolas Ghesquière's next season collection was showcased on a specifically blue-toned space set at the Bois de Boulogne Park in Paris, which helped evoke some cool autumnal/wintery feels indeed.
Like Chanel's front row yesterday, Louis Vuitton's was also filled with influential personalities, such as Alicia Vikander, Selena Gomez, Léa Seydoux and Catherine Deneuve, among which Willy Smith's son Jaden Smith surely stood out of the crowd (like his sister Willow, who has now officially become Chanel's brand ambassador). Genderless fashion enthusiast Jaden Smith has been breaking the boundaries of fashion for a while now, and since earlier last year he has found in Louis Vuitton a great source of inspiration for experimenting with clothes.
And experimenting through fashion surely is one of Louis Vuitton's and Ghesquière's forte, as the French Maison has always embodied the symbol of ultimate innovation. For the Louis Vuitton fall/winter 2016-2017 ready-to-wear collection athleisure-inspired pieces got gracefully combined with graphic patterns and terrific tailoring skills, making it possible for the models' bodies to be almost geometrically shaped.
Visible hems and prints resembling corsets and bras were the collection's key details, taking the whole 'inside-out' trend to a brand new level. To reinforce the inside-out concept Ghesquière had fun playing with color-blocking motifs as well, among which red, green and blue colors were particularly celebrated. Such choice gave the overall collection a sort of superheroine vibes, as most of the proposals looked liked modern wearable versions of Marvel Comics' costumes. On the other hand, the athleisure vibes got translated to t-shirt dresses, simple t-shirts with colored geometrical patterns, yoga pants in edgy leather and even a quirky hybrid that combined varsity jackets and mid-calf vests together.
As for the silhouettes, Ghesquière particularly enjoyed accentuating the hourglass figures, adorning most of his proposals with rounded dark-toned patches of fabrics at the waists. Peplum figures are of course to be contemplated here as well, as they became the sole protagonists once the show was drawing to a close. Other interesting figures included asymmetrical necklines, asymmetrical double-breasted zip-front jackets, asymmetrical frilled hems for almost any mermaid dress and, overall, anything asymmetrical in general. He then played with contrasts by alternating all these asymmetrical sharp-cut proposals with more relaxed nerdy sweaters and elegant mannish coats.
In the perfect Louis Vuitton tradition, Ghesquière took the time to add haute couture touches here and there, to be specifically seen in the exaggerated hats, fur and intricate glittery embellishments and, of course, in the accessory line, with the handbags and sporty shoes being just the icing on the cake. The collection's finale paid homage to Maison Margiela's iconic trompe l'oeil sequined frocks, which also gave the collection some vivid Nineties vibes. Thanks to Louis Vuitton, the upcoming fall season won't be boring for sure!
Fashion Trends
Louis Vuitton's pre-fall 2016 collection is futuristic, sporty, and sexy, which is just the way creative director Nicolas Ghesquière likes to keep things. He decided to use some of the best pieces from past collections that have actually come to be staples in the LV customer's wardrobe, and all work to keep her feeling young and modern. When it comes to this, Ghesquière knows best, and when women wear his looks in the street it shows.
Color-blocked motocross pants don't quite seem, in theory, that they should be a staple piece in a woman's wardrobe, yet after Ghesquière put his signature on them, it seems they'd look good on anyone. It also wouldn't be likely they would be so versatile, yet according to Louis Vuitton, they can be worn with anything from simple to elegant tops. Then again, there were many pieces that could fit right alongside the motocross theme in this line, and they needed to be paired with something to keep things fresh – but now that the pairing has been seen, it'll be all over the streets to show who's who when it comes to fashion followers.
You could also find looks like a zip-fronted minidress, which Ghesquière popularized back in fall 2014, that exuded fun youth, while still keeping things modern and progressive. Tossing back references to popular past trends from the label like this is a great thing for brand recognition. Seeing the zippered dress or the color-blocked pants on someone walking down the street just shows who has been shopping LV lately.
The apparel was extremely fashion-forward, but the accessories were exceptional on their own. The handbags were the most versatile part of the Louis Vuitton pre-fall 2016 line, as they didn't have the same quirk or blatant futuristic vibe the apparel did. Bags big and small will likely make a huge splash when they hit the market, as many of them were much more sophisticated than the clothing in the collection.
Belts were used to alter the silhouettes of the garments, but the most striking and interesting accessory photographed with the looks was black gloves. They made everything on the models instantly more punky, and also more sexualized, in a dominatrix-esque way. There were so many different directions Ghesquière was trying to take the collection in, and the result was an eclecticism that also hints to steampunk.
Fashion Trends
French fashion power house Louis Vuitton is reinventing the luxurious take when it comes to hand bags with its latest Pallas Bag Collection. There are several handbags that you can choose from and trust us, each one will cater to your specific needs. One can always choose from these three beautiful LV bags: Pallas Shopper, Pallas and Pallas BB. The Pallas Shopper is another addition to the Pallas line as it redefined what a shoulder tote should look like. A match made in heaven for the modern woman, it has an elegant feminine touch combined with the Monogram canvas of which LV is known for. It has the following dimensions: 15.7′ x 10.6′ x 5.9′ inches (L x H x W) and retails for $2490 USD or €1880 euro.
The Medium Pallas Shoulder Bag on the other hand is impeccable in all its angles and perfectly fits the hands of a chic globe trotting woman. It has toron handles, adjustable and removable shoulder strap, double zip closure and microfiber lining. The Medium Pallas has the following measurements: 13.4′ x 9.8′ x 5.1′ inches (L x H x W) and is priced at $2490 USD or €1840 euro.
Lastly, the Pallas BB is too cute to handle! This one is an on-the-go bag as it adds panache to your whole ensemble. It has the following dimensions: 10.6 x 7.1 x 3.1 inches (LxHxW) and is priced at $2260 USD or €1640 euro.
Fashion Trends
Introducing the Louis Vuitton Spring/Summer 2016 Bag Collection. The handbags included in the collection were first presented in the Spring/Summer 2016 runway show. The brand introduces a new print this season which is the Chain Flower, a pattern which features chain and the signature Monogram flowers.. The latest print is seen in a variety of Louis Vuitton's classic bags such as the Petite Malle, Alma, Twist and Cluny. The brand has also updated their iconic bags, the Speedy and Lockit, by introducing the Speedy Amazon and Mini Lockit. The Speedy Amazon is a shoulder bag without the top handles. The Mini Lockit is the miniature version of the Lockit bag, it includes a wrist-strap which can be used from day to night. The City Steamer Tote Bag is back this season in new colors including the Hologram design.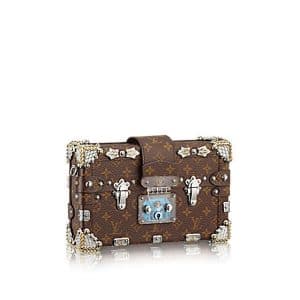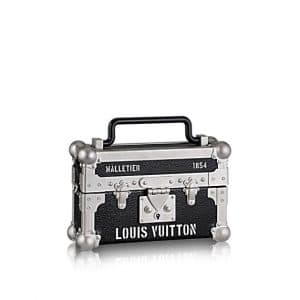 | Style | Price |
| --- | --- |
| Louis Vuitton Chain Flower Epi Petite Malle Bag | $5,750.00 (USD) |
| Louis Vuitton Monogram Canvas Petite Malle Bag | $5,500.00 (USD) |
| Louis Vuitton Monogram Canvas Petite Malle Fantasy Bag | $8,850.00 (USD) |
| Louis Vuitton Monogram Canvas Petite Malle Fantasy Bag | TBD |
Alma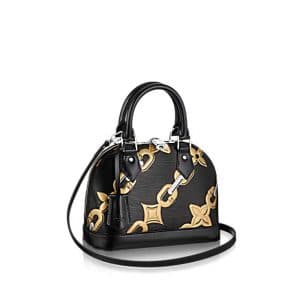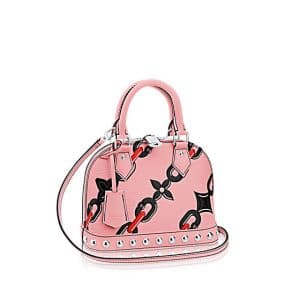 | Style | Price |
| --- | --- |
| Louis Vuitton Alma Fusion PM Bag | $5,500.00 (USD) |
| Louis Vuitton Chain Flower Epi Alma PM Bag | $3,100.00 (USD) |
| Louis Vuitton Chain Flower Epi Alma BB Bag | $2,350.00 (USD) |
Twist / Go-14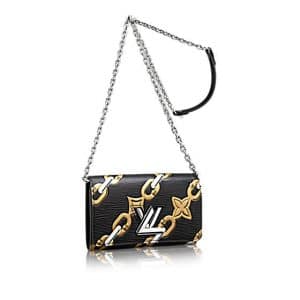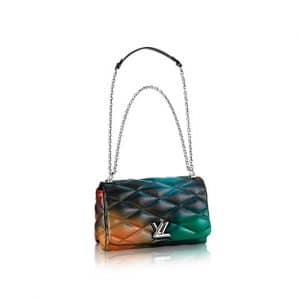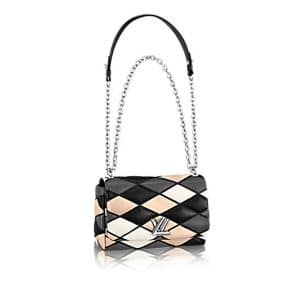 | Style | Price |
| --- | --- |
| Louis Vuitton Braided Corner Epi Twist MM Bag | $4,050.00 (USD) |
| Louis Vuitton Chain Flower Epi Twist MM Bag | $4,050.00 (USD) |
| Louis Vuitton Chain Flower Epi Twist Chain Wallet Bag | $1,840.00 (USD) |
| Louis Vuitton Go-14 Hologram PM Bag | $4,300.00 (USD) |
| Louis Vuitton Malletage Go-14 PM Bag | TBD |
City Steamer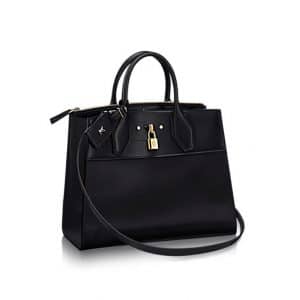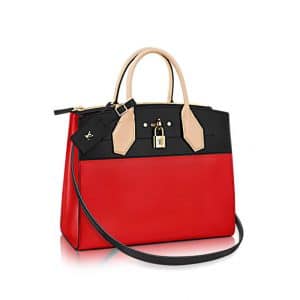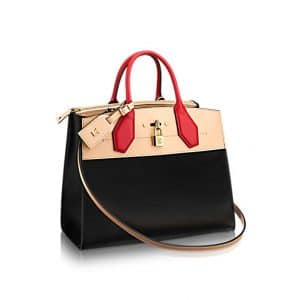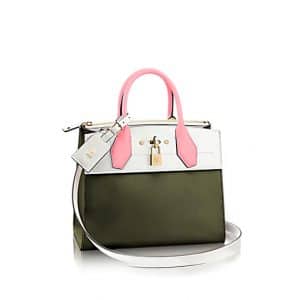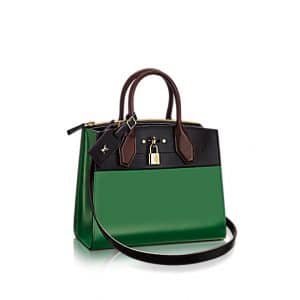 | Style | Price |
| --- | --- |
| Louis Vuitton City Steamer Hologram MM Bag | $4,550.00 (USD) |
| Louis Vuitton City Steamer MM Bag | $3,850.00 (USD) |
| Louis Vuitton City Steamer PM Bag | $3,550.00 (USD) |
Speedy Amazon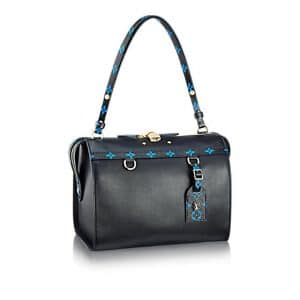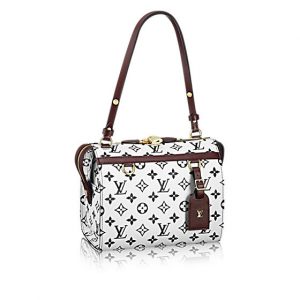 | Style | Price |
| --- | --- |
| Louis Vuitton Speedy Amazon MM Bag | $3,950.00 (USD) |
| Louis Vuitton Monogram Canvas Speedy Amazon PM Bag | $2,530.00 (USD) |
Cluny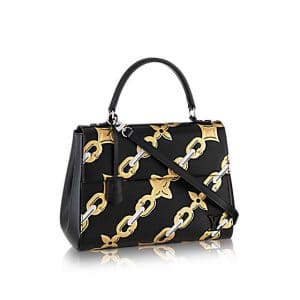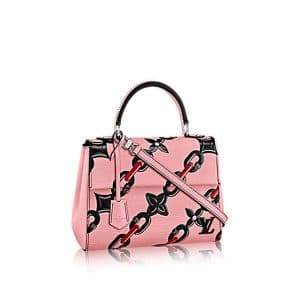 | Style | Price |
| --- | --- |
| Louis Vuitton Chain Flower Epi Cluny MM Bag | $3,700.00 (USD) |
| Louis Vuitton Chain Flower Epi Cluny BB Bag | $3,250.00 (USD) |
Mini Lockit
| Style | Price |
| --- | --- |
| Louis Vuitton Chain Flower Mini Lockit Bag | $2,280.00 (USD) |
| Louis Vuitton Mini Lockit Fusion Bag | $3,100.00 (USD) |
Tag: Louis Vuitton Bag Spring/Summer 2016
Categories

New Posts

Hot Posts